Today we're delighted to share with you an exclusive interview with Oliver Tompsett! Oliver was the understudy for Fiyero in the Original London Cast of Wicked before taking over the role in July 2007. He stayed with the show until March last year. Previously Oliver has been seen in the Original London Cast of Our House, as well as the London production of Mamma Mia!, and will soon be originating the role of 'Drew' in the West End production of Rock of Ages. Check out his interview below!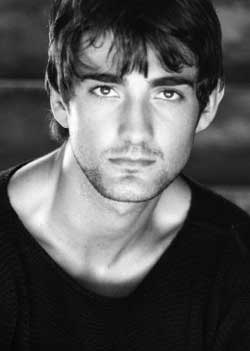 What was your first professional acting job, and how did you get it? What did you learn from the experience?
My first professional acting job was as a swing in the madness musical "Our House". On graduating from Arts Education London Musical Theatre course, I got an agent who had taken me on from seeing me in my third year college productions. She got me an audition and they gave me the job. Loved it.
How did you come to audition for "Wicked"? How long was the audition process, and what did you have to do?
Breakdowns were sent out for "Wicked". I auditioned first with my own song, "King of the World" from "Songs for a New World", then was sent "Dancing Through Life" and "As Long As You're Mine" as well as some scenes from the show to do in front of the panel of director, music director, and Stephen Schwartz, then I got a job offer to understudy Adam Garcia. I was chuffed. Ten months later they offered me the part, woo hoo!
What was your reaction when you found out you had been cast in "Wicked"?
I was chuffed to be understudying Adam Garcia as I saw him as a kid playing Tony Manero in "Saturday Night Fever" at the Palladium and had always looked up to him. And knowing that I would get to sing opposite Idina Menzel wasn't bad either!
How long was your initial rehearsal process for the show? What was it like?
About eight weeks including tech and the rehearsal process is always the most fun.
What was the hardest part of your rehearsal process for the ensemble? What about for Fiyero?
For the ensemble, the hardest bit is the opening. The American creatives were so determined to start the show off with heightened energy, but bang on your marks singing as loudly and with as much dynamic as you can. For Fiyero, "Dancing Through Life" is very hard to master [because of] the breathing with dancing and singing and going up ladders and statues.
What was it like to work with legends like Idina Menzel and Miriam Margolyes?
Miriam is a one off and the funniest, sometimes a bit rude ladies I've ever met, but has the kindest heart imaginable. Idina has star quality and was also very sweet.
What was your favorite part of the show to perform in the ensemble? What about as Fiyero?
"March of the Witch Hunters" to let off some steam and the rope swing scene – loved the rope swing moment.
How did your promotion to principal Fiyero come about? Did you audition again or were you simply asked to take over?
At the time they told me that if they couldn't get a celebrity good enough to do the job they would love to have me and one z-list celeb turned it down luckily for the show, so I got offered the part.
We know you performed with several different ladies as Elphaba and Glinda – did you find your performance changing based on who was in those roles?
To play either of those roles, you have to be at the top of your profession, so I was very lucky to work with some great actresses/actors, so yes it would change sometimes.
Have you witnessed – or perhaps been involved in – any onstage bloopers or mishaps that you'd like to share?
Many bloopers but one of my favourites was when I picked up Elphaba's broom in the rope swing scene and handed it to her saying "Elphaba GO Now!!" and the broom snapped in half, so I gave it to her in two halves. (Try and fly on that, green girl.)
What was it like to leave "Wicked" after being in the show so long?
When I agreed to stay on for my last year, I knew it was my last. I didn't want to miss any new shows that were coming in and I had done all I could with the role. I still miss the people but as great a show as it was I don't miss the piece. Was very sad but excited to leave.
Do you have any other projects coming up soon you'd like to tell us about?
I am now in rehearsals for "Rock of Ages" playing the lead role of Drew and I can't wait to show people that I can rock and I'm not just a Prince Charming.
Are there any dream roles that you'd like to one day perform?
Drew is seriously the most fun I can imagine having in a musical, but I would love to play Jerry in "The Full Monty" or Galileo in "We Will Rock You". I love Queen!
What advice would you give to aspiring performers?
It's one of the most competitive professions there is. Especially now that film stars are doing television because there's less films. TV stars are coming into theatre because there's less work for them, bumping us theatre performers out. Do what you can to get a profile! You may lose a little bit of integrity from entering a reality TV show, but you will still be as talented and you will get the job over someone unknown. The guys from the Joseph programme and "How to Solve a Problem Like Maria" maybe exposed there weaknesses as well as their strengths, but they are getting the jobs. In the meantime, whilst training yourself, never sit back and think,"I've got a good voice" because there will be hundreds better . So watch and learn from those you respect even if you hate the girl/ boy in your class because she/he gets all the lead roles. Don't be bitter, get better: watch her and find ways to do what she does. Better learn from those that get it right and learn from those that get it wrong and one day you'll be the best you can be until you learn from someone else and so on . . . and so on. Don't take your talent for granted and don't underestimate how much talent is out there. Just when you think you're great someone will make you look like you don't know what you are doing so if you really love performing and want to make a living from it, you better be hungry.